In 4 day's time, i'll be visiting California-US for the first time in my life. Being a startup guy myself, this is a big deal for me. I'm really excited to see what the biggest startup ecosystem in the world is like. I wanted to make this trip a really memorable one but i didn't have enough contacts there. So i shamelessly cold-emailed some of my favourite tech companies in California asking for an impromptu visit to their offices/campus. Some of these companies accepted my request(thank you so much!). But 1 of which just blew me away. Here's what happened.
I have always been a big fan of Evernote. After several failed attempts to link up with evernote staff through friend introductions, i resorted to cold-emailing its CEO, Phil Libin on linkedin…
Ok i admit, its kinda cheesy. But hey, i wasn't expecting a reply.
And so i didn't. Then i tried to ping the CEO on twitter, and i got a reply! Well, not Phil Libin himself, but still a reply :)
Things are looking good! So i followed the instructions and the following conversations ensue: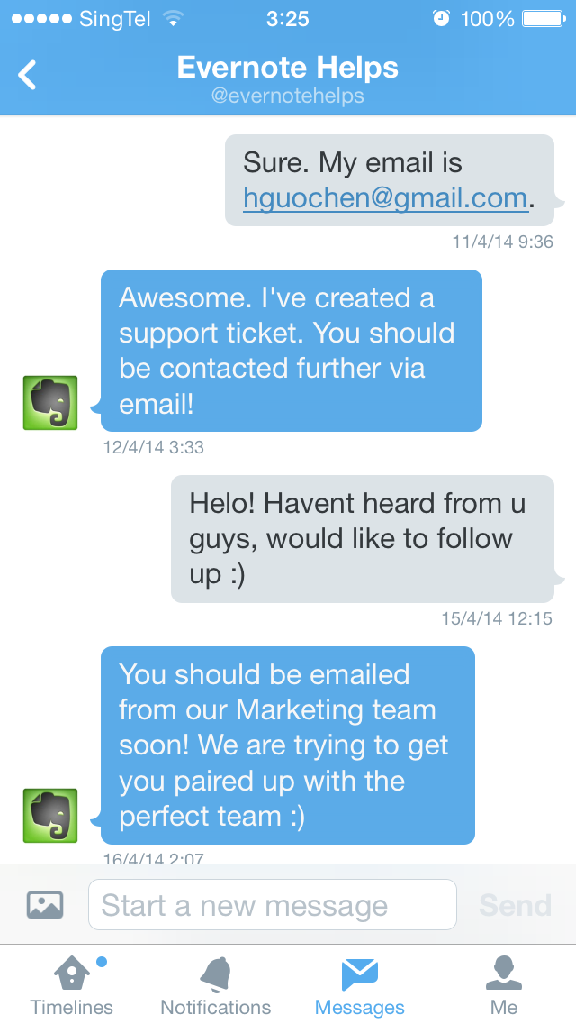 A few days later, this email from Evernote's marketing manager came:
How excited was i to read this? Let's just say that my laptop keyboard now comes coffee-flavoured. Thank you Evernote, you've just made a fan very very happy :)
I'll be giving a full recount of my visit to Evernote HQ sometime later. In the meantime, please leave in the comments below if you have a request for me on visiting Evernote :)